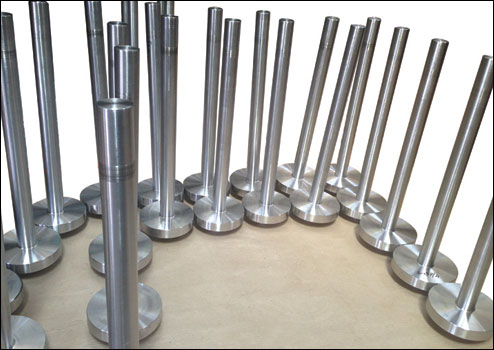 OUR EXPERTISE MAINLY LIES IN THE TAILORED Made Forged THERMOWELLS IN NUMEROUS GRADES OF MATERIAL
We manufacture in ALL STEEL, STAINLESS STEEL AND NICKEL ALLOY MATERIALS FROM SOLID BAR STOCK (316/316L, 304/304L, DUPLEX F51/F53, HASTELLOY C276, MONEL 400, ALLOY 600/625/800 HT/825/ETC.).
All our parts are made to measure, to client specifications and in all dimensions. The maximum drilling diameter is 18mm and the maximum length is 1000mm..
VAN STONE THERMOWELL (SHELL STANDARD)
THERMOWELL & COVER FLANGE MATERIAL available.
- 304SS, 316SS, 304LSS, 316LSS, 310SS, 321SS, 446SS, INCONEL, HAST-C, MONEL, TITANIUM, TANTALUM,
TYPE OF CONSTRUCTION : SINGLE PIECE FORGED
WELL (Out diameter) REFER TO SHELL STANDARD DRAWING "S38.113 – AND " S38.114"
PROCESS CONNECTION : LAP FLANGE up to 2500Lb
INSERTION LENGTH("U" Length) "Upon reqeust mark to order".
 Features :
Single Piece Forges, Solution Annealed and Fully Machines
Considerable material saving compared to Bar Turned
Heating Charts Available for Corrosion tests
Gun Drilled as per requirements
Ready for assembly thereby saving considerable resources for OEM's
Material Construction :
Stainless Steel : ASTM A182304/304L/304H, 316/316L/316H,317/317L/317H, 321/321H, 347/347H, 316TI
Duplex : ASTM A182 F51, F60
Super Duplex : ASTM A182 F53, F55
Nickel Alloys :  Alloy 20,Hastealloy C276, Monel 400, Alloy 625, 800, 825, 600
Alloy Steel : ASTM A182 F1, F5, F6, F9, F11, F22, F91
Carbon Steel : ASTM A105 / SA 266, ST37.2 / C22 / C22.8
Low Temp Steel : SA 350 LF2
High Yield Steel : ASTM F694 F50, F52, F60
DIN / EN : 1.4404, 1.4401, 1.4541, 1.4571, 1.4306, 1.4307,1.4301, 1.5415, 1.7380, 1.7335, 1.0460, 1.4462
 TESTs CARRIED OUT
IN-HOUSE
Concentrically Checking
Ultrasonic testing for all bodies
Positive Material Identification (PMI), with portable NITON Analyser
Inspection of welds through II penetrant testing (in accordance with EN 473) if Requested
EXTERNAL
Radiographic testing of welds in accordance with CODAP 2000 and ASME standards (minimum 3 X-ray images for each part)
Radiographic testing of concentricity (2 X-ray images for each part)
Measurement of the ferrite content in the finished part (using FERITSCOPE FMP30)
EN10204 3.2 Certification
Laboratory tests:
Micrography 400x
Corrosion tests in accordance with ASTM standards
If you are Looking for Thermowell Forgings .... Your Search Ends here !!